A Short History of the Pack Rats
Details

Category: History Articles
Published: Monday, 16 October 2017 16:14
Written by unknown
Hits: 7422
A Short History of the Pack Rats
(Original author unknown)
The Mt. Airy VHF Radio Club was founded in 1956 by a group of Philadelphia area hams whose main interests were building equipment and operating the amateur radio frequencies of 50 MHz and above. The founding members almost immediately were nicknamed the "Pack Rats" because of their propensity for collecting all manner of electronic equipment and parts. The nickname stuck and for more than 60 years the Mt. Airy VHF Radio Club, better known as the "Pack Rats", has grown and prospered. Although the higher frequency and microwave bands carry the mystique of requiring specialized technical skills, our members come from all walks of life but share a common interest in VHF and above operating and help each other wherever possible. We do have a number of members with technical expertise and many of the transverter, amplifier, and antenna designs that these members have created have been publicized in the major Amateur Radio journals and conferences.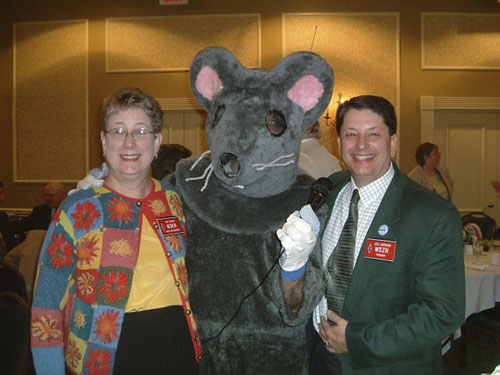 ARRL President: Kay C. Craigie, N3KN
The "Pack Rat"
Former ARRL President: Joel Harrison, W5ZN

Banquet Celebration for the Mt. Airy VHF Radio Club's
50th Anniversary 2006
The Pack Rats have always held the principals established by the founding members in high regard. The club constitution is strictly adhered to and requires the active participation of all regular members.
The Pack Rats have been particularly successful in the art of VHF contesting. We have won top honors in the January VHF Contest Club Competition for over 40 years. Contests, especially the ARRL sponsored January SS and June VHF QSO Party, are a means of testing our stations and improving our operating skills. Below is a display of awards as of 1996.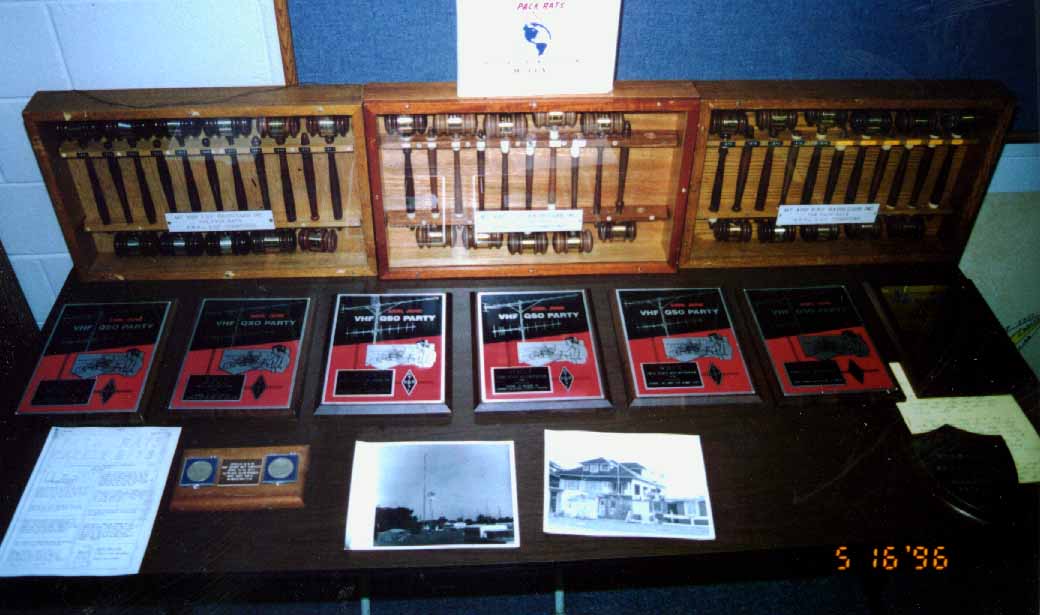 The Pack Rats are not organized strictly as a contest club. But since contests serve to enhance activity in a friendly, competitive way on the bands above 50 MHz, the club has embraced weak signal contesting from its earliest days.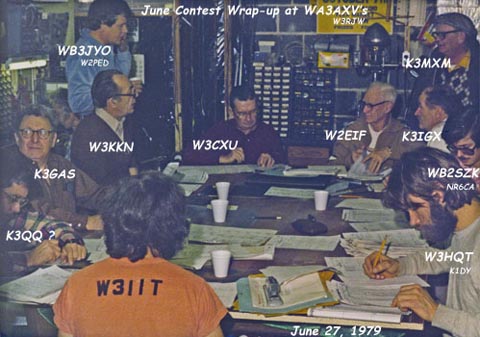 The Pack Rats sponsor several on the air activities. Weekly nets, the monthly microwave activity night, beacons, and a club repeater promote activity on the VHF bands and help our members and others to share information and check their stations. We also sponsor a yearly technical symposium, the Mid Atlantic VHF Conference, and the largest local amateur radio flea market, Hamarama.  [Hamarama is now defunct. -ed]